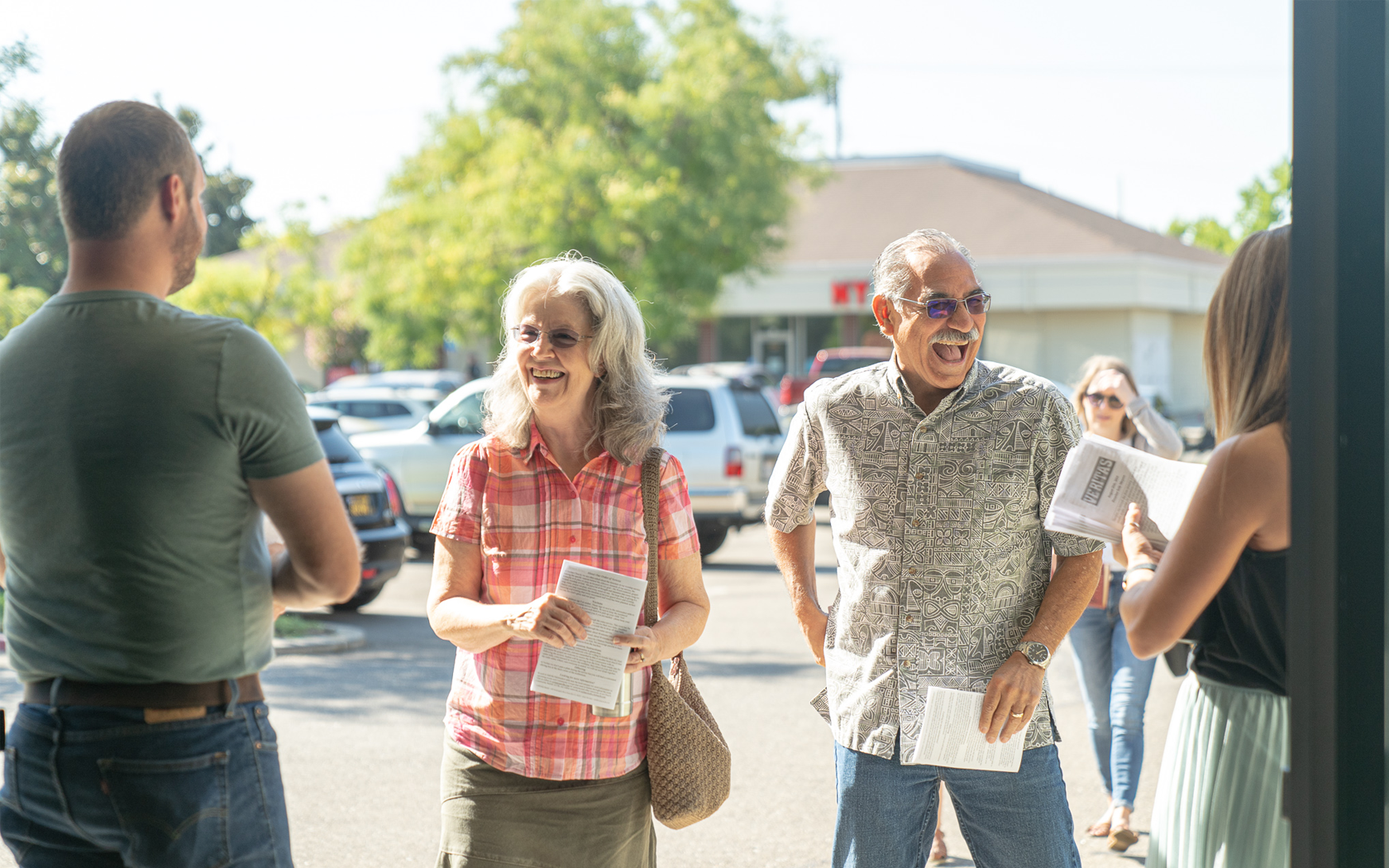 What to Expect at Veritas Church
Sunday morning worship is central to our life together. We seek to worship God in an attitude of reverence and joy, believing there is no greater blessing afforded to us than drawing near to God in worship. Here is a bit of what you can expect on any given Sunday.
Profile
Age-wise, we are young, with lots of little kids. Sunday morning attendance typically runs between 150 and 200 people. Our dress trends toward business-casual, though you can find anything from jeans to suits. People are friendly, but we'd encourage you to be bold and introduce yourself.
Service
Our doors open Sunday morning at 9:30 for anyone who wants to come early and spend time in fellowship with others. At 10:00, we begin our worship service in the sanctuary with one of our service leader guiding us through the various elements of the service.
As you'll see, we run a very organized service, which, to some people, depending on their background, can feel overly formal, which is not our aim. Rather, our desire is to be thoughtful and intentional with everything we do during a worship service.
Music
The music at Veritas is a blend of both old and new. We love the doctrinally rich hymns of the sixteenth century as well as modern choruses. We have several worship leaders that lead us on a rotating schedule. We strongly prefer congregational singing, which emphasizes the gathered people singing praise to God with one voice, over performed music which tends to spotlight the abilities of a gifted few.
Kids
You may not be used to having a lot of children in the worship service, but at Veritas you are bound to be surrounded by kids. Children are very important to us and we value them as a central part of our community. When we gather together to worship God we think the entire family should be present. In light of this, we like to begin training children to be a part of corporate worship from an early age. We desire that they be known, loved, and accepted here, which is why children of all ages are encouraged to join us at any time during the service.
We offer classes for kids age 5 and under, a place where they can play and learn. To avoid crowding in the halls, classrooms open for you to drop off your children fifteen minutes before our service begins. Please don't worry about any noise - your children are not a bother – they are a blessing from God!
Learn more about our classes for children at our VeriTots page.
Sermons
Preaching at Veritas is generally expositional, meaning that the content of a particular passage of Scripture controls the content of the sermon. Sermons usually last around an hour and are packed with material for reflection. On a regular basis, our sermon series alternate between the Old and New Testaments. All preaching is driven by the Gospel, the Bible's main message of God saving sinners through the death and resurrection of Jesus Christ.
Post Sermon
A typical worship service lasts about an hour and is usually finished by 11:00 am. Once service is over, if you're able, we encourage you to stay behind for at least a few minutes and introduce yourself to some people.